We have reached the end of June already. Off-season workouts and Mini-camps have concluded for all 32 NFL teams and we are about a month away from training camp. The 2017 preseason will kick off August 3 in Canton, Ohio, when the Dallas Cowboys take on the Arizona Cardinals in the annual Hall of Fame Game.
It's time to start getting into the fantasy football mode. It can be hard for those of us who are immersed in MLB fantasy this summer but being proactive is always best. With that being said let's look at my 2017 season-long RB rankings as of late June 2017.
---
#1 – David Johnson
The number one running back debate can be made for either Johnson or Le'Veon Bell for the 2017 fantasy season. While I think any fantasy owner will be happy with either running back, I think Johnson has the slight edge over Bell this year.
Last season, Johnson rushed for 1,239 yards, and 16 touchdowns, caught 80 balls for 879 yards and four touchdowns resulting in being the number one fantasy player in 2016.
There is no doubt that Johnson will again be the focal point of the Cardinals offense and due to the fact that quarterback Carson Palmer is struggling to throw the deep ball and has begun to regress in the latter stages of his career. Expect Johnson to be a reception monster who benefits from multiple check downs and screen passes every week.
The Palmer factor is one reason Johnson gets the nod over Bell. The other is the fact that Bell does not have an easy road ahead of him as the Steelers will face the 3rd toughest rushing schedule in the NFL. Johnson and the Cardinals face the 17th and let's not forget Bell seems to find the injury list quite often.
#2 – Le'Veon Bell
Don't get me wrong Le'Veon Bell is an absolute stud and if you have the ability to take him in your draft, do it. Just don't do it ahead of David Johnson.
Bell underwent offseason groin surgery back in March and he will be good to go for the start of the season. He is still in the midst of contract discussions with Pittsburgh but expect those to be cleared up by the July 17th deadline.
We know all about the "Triple B's" in Pittsburgh and expect nothing short of the same in 2017. In his last 25 games, Bell was on the field for 95 percent of the snaps and handled 22.2 carries and 6.7 targets per game. Expect another great season from Bell, and look on the bright side, he's not suspended…yet.
#3 – Ezekiel Elliot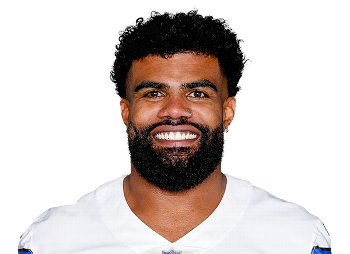 We have seen the sophomore slump time and time again in the NFL after teams get familiar with a rookie who took the league by storm. Don't expect this to happen from Elliot, not only because of his talent but because the Cowboys have the best offensive line in football.
Elliott was amazing as a rookie in 2016 with 322 carries for 1,631 yards and 15 touchdowns and 32 catches for 363 yards and one touchdown in 15 games as he sat out the final week to rest for the playoffs.
As the season draws nearer I may move up Elliot in my rankings. The reason I have him at number three right now is the fact that he doesn't compare to Johnson and Bell catching passes out of the backfield. There is no doubt in my mind that Elliot has a great season, he could even lead the league in rushing, but that doesn't mean he will lead the league in fantasy points.
#4 – Melvin Gordon
Coming out of Wisconsin Melvin Gordon was the next best running back with dreadlocks since Ricky Williams. Gordon didn't live up to the hype and had a terrible rookie campaign and struggled to hold on to the football.
Those who took a chance on Gordon in 2016 were pleasantly surprised as he had 1,416 yards from scrimmage and 12 total touchdowns despite missing the Chargers last three games. For Gordon, much like Bell, for an early draft selection to pay off, he will need to stay healthy.
The Chargers showed that they have faith in him and now that Danny Woodhead is gone he is the top dog without question. Gordon has a favorable schedule as the Chargers play the AFC East, NFC East, the Browns and the Jaguars in 2017. We also have to like the fact that the Chargers new head coach Anthony Lynn is a former running backs coach and should have no problem letting Gordon tote the rock 20 times a game.
#5 – LeSean McCoy
If you ask Buffalo Bills fans, they have no doubt that McCoy will have a monster year even though head coach Rex Ryan has been relieved of his duties with Buffalo. In fact, Not only do Bills fans think that, so do odds makers.
Believe it or not, Bovada ranks McCoy as the 12th most likely player in the league to win NFL MVP next season. I would not count on that happening but it did give me reason to re-evaulate my position on the man known as "Shady"
The Bills let Mike Gillislee aka the "Touchdown Bandit" go so we no longer have to worry about him stealing McCoy's red zone carries. It remains to be seen if Jonathan Williams or Cedric O'Neal will fill in that role but all signs point to McCoy being the workhouse of the Bills backfield. That notion alone gives McCoy value as most teams have now adopted running back by committee agendas.
We can't forget that the Bills led the NFL in rushing for a second year in a row last season. McCoy rushed for 1,267 yards and averaged 5.4 yards per carry, while scoring 14 touchdowns. Buffalo News is reporting that McCoy looked great during mini-camp and even at 29, I think McCoy could be a great assett to your fantasy roster in 2017.
6. Devonta Freeman
7. Jordan Howard
8. Jay Ajayi
9. Leonard Fournette
10. DeMarco Murray
11. Lavar Miller
12. Carlos Hyde
13. Todd Gurley
14. C.J. Anderson
15. Christian McCaffery
16. Isaiah Crowell
17. Ty Montgomery
18. Tevin Coleman
19. Eddy Lacy
20. Spencer Ware
21. Ameer Abdullah
22. Paul Perkins
23. Bilal Powell
24. Dalvin Cook
25. Frank Gore
26. Mark Ingram
27. Danny Woodhead
28. Matt Forte
29. Fat Rob Kelley
30. Derreck Henry
31. Jonathan Stewart
32. Theo Reddick
33. Doug Martin
34. LeGarrette Blount
35. Adrian Peterson
36. Latvius Murray
37. Jamaal Charles
---
Stay tuned for my WR, TE, and IDP rankings coming soon.
Nick Olson — @CoachO37 on Twitter