What up, what's good, what's poppin' Dfs/Season longers?
It's your man Zito, back at it, like a crack addict, ready to help your, "grow a stack habit". LOL
If you have not, for the love of whatever holy deity you worship, follow @FanForecast on Twitter…like now!
When you follow @FanForecast on Twitter , find out allll the particulars on how to subscribe.
Plus, we have some of the absolute best NBA, NHL and NFL analyst in the industry!
With all that being said, let's break this slate down like only the Off The Cuff Guru can!
---
What do I always say?
FUCK THE NUMBERS!!!
Here's what I'm finding out more and more.
I trust my gut, The eye test and 1 "stat" … BvP matchups.
To me, that's all you need to lock in your batters.
I've cashed way more not looking at the cluster fuck of stats everybody else does. If that's your cup of tea, do you, but ova here…fuck all that!
Like your mom said last night, "Do that thing you do" … Damn…Just dry snitched on myself, oh well!
Moving on!
Today, I'm gonna show ya'll how to jump the shit out of a team!
Yes, no cops involved!
Let's build these stacks!
Red Sox vs Orioles
The Red Sox is my team, but job is to keep it a 100 with ya'll right?
Pom Pom is a lil bitch, and always gives up dingers…SO…
Chris Davis, Mark Trumbo and Wellington Castillo are the plus here.
With stacks, I prefer 2-3 players unless it's a goat mashing, I'll go 4.
2 of those 3 are going yard today.
On the Red Sox Side
Panda, Benintendi aka Super Nintendo, Xander Bogaerts and Mookie Betts are my options.
Do I really have to break down the upside here? lol
Thought not.
Nationals vs Mets
Nationals again, have one of the most potent batting cores in MLB.
I love Harvey, buuuuut the Nats are hot!
Trea Turner, Stephen Drew, Daniel Murphy and Bryce Harper are all a go!!
Murph in a revenge game, Harper hit a grandy the other night…Get you some exposure!!
On the Mets side
Flores, Duda, Bruce, Cabrera and Ces are all viable tonight and will DEFINITELY BE LOW OWNED. They might fuck around and win somebody a GPP tonight.
Brewers vs Cardinals
WELCOME TO THE CHALKIEST CHALK FEST!!
THAMES THE GOD, Braun and Villar are my picks for today.
FIND THE VALUE!!!
On the Cards side
Garcia, Gyorko and Carpenter are who I think will go off.
Like the Mets, in the shuffle, I think they will be super low owned.
If it helps…I rostered a small Cards stack last night and cashed off of it.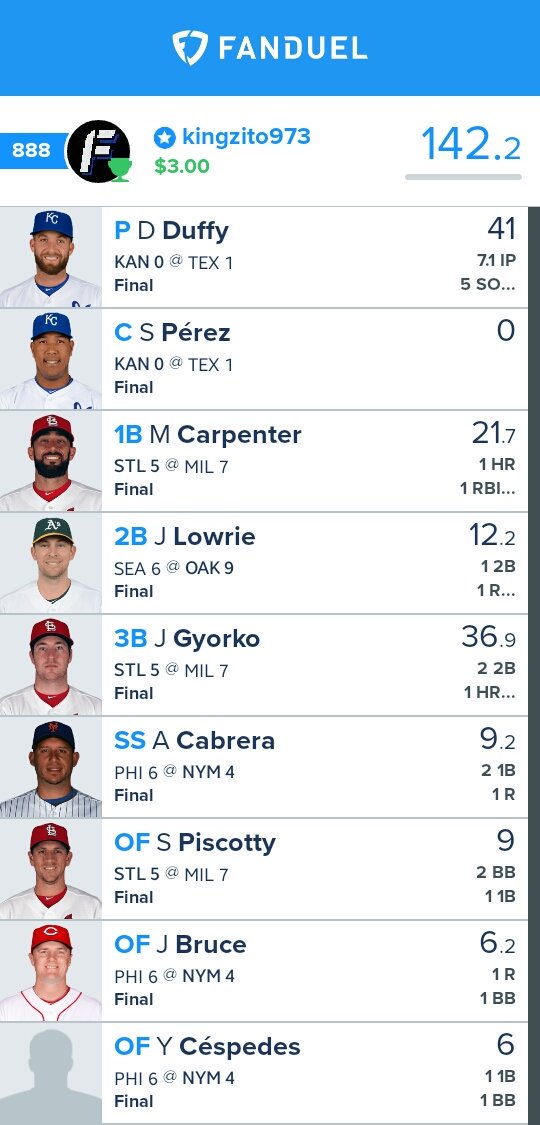 Simple people. Stop complicating this thing called DFS. Have fun!!
That's it for me people. Do me a favor and take some shit down!
When you do, make sure you shout us out @FanForecast x @KingZito973 and with the hashtag #FanForecastOTC
Peace!!!
---